Quality Cooling Repair, Maintenance & Installation Services in Troy, OH
Throughout Ohio's hot summer months, we offer a wide range of cooling services. Whether your central air conditioner is making loud noises, blowing warm air, or blowing no air at all — don't sweat Ohio's humidity or heat! We have someone standing by day and night.
Our friendly team of NATE-certified AC technicians here at Troy Furnace & Air Conditioning offer everything from emergency A/C repairs, AC replacement and installations, and seasonal maintenance. Our commitment to low prices enables us to maintain the lowest rates in the local market. In addition to our Best Price Guarantee, we offer online deals and fast and convenient financing.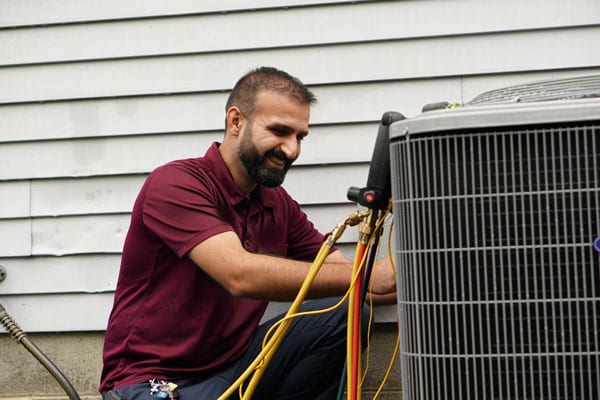 Air Conditioner Maintenance
Air Conditioner Installation
Service Call
We Service All Brands of HVAC Equipment
Are you having problems with your furnace, air conditioner, or heat pump? Troy Furnace & Air Conditioning can help you get to the bottom of it. Check out our special Service Call! If you're ready to take advantage of this special offer, claim this deal today to request your appointment. We service all brands, makes, and models of HVAC equipment across Northern Dayton! 10% off Service Call
Book Now
4 Home Cooling Efficiency Tips
Lower Your Cooling Bill With These Tips
When the weather begins to heat things here in Northern Dayton, our cooling units become a sort of lifeline in our homes. If you're looking to lower your A/C expenses, the following tips can help you save on air-conditioning costs:
Restrict Direct Sunlight
Although natural sunlight is great for ambiance during the summer, the sun's rays can also raise the temperature of your home, warming things up inside. To prevent outdoor sunlight from heating your home, we recommend closing blinds and drapes or investing in blackout curtains to reduce exterior heat.
Set Realistic Temperatures
Keeping your thermostat to 78 degrees is considered the most efficient setting for a residential air conditioning system during the summertime. When you lower your home's temperature to 72 degrees, it can increase your home's cooling expenses by as much as 50%.
And when it's hot, don't set the air conditioner at a much lower temperature than necessary. Although a lot of people believe this makes the unit work faster, this is a misconception. It does not cool the room any quicker.
Decrease Use of Heat-Generating Appliances

Keeping heat-producing appliances, like televisions and lamps, away from your home's thermostat is a good idea. The heat they produce can mess with your thermostat's reading causing your air conditioner to work harder to cool the room, using up more energy. Additionally, cooking, baking, or using other heat-generating appliances can raise the temperature in your home, forcing your AC system to have to work harder. Keeping the use of these appliances and other heat-producing activities limited during the hottest hours of the day is important.
Utilize Fans
Fans are an awesome and affordable way to keep your home cool at a fraction of the cost of an air conditioning system. Although it's highly unlikely a fan would suffice to replace your central home cooling system entirely, they make amazing supplements to keep the air flowing. Position them near or in windows, and try to create breezeways when possible.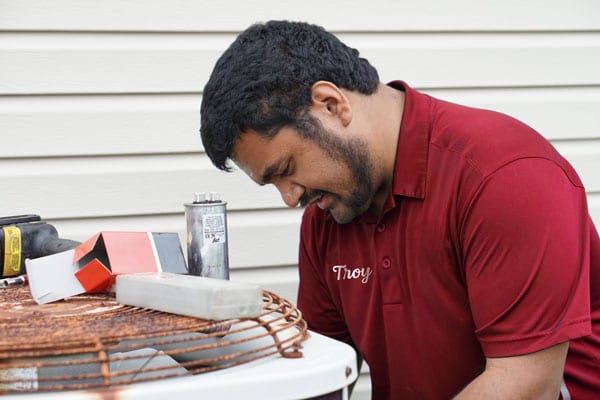 Cooling System Installation & Replacement
We're the A/C Replacement & Installation Experts in Miami County, OH
Purchasing a new A/C is a major decision. With all the different HVAC contractors here in the Miami Valley, potential customers should check an HVAC company's track record and do their homework about the various types of systems available before moving forward.
Our team of home cooling consultants here at Troy Furnace & Air Conditioning make the entire A/C installation process a pain-free positive experience — from the time you first call until the time we're pulling away — we customize all your residential comfort needs and believe keeping your home cool should be as easy as a breeze. We offer trusted brands such as Amana, Goodman, Trane, and more!
Financing Options in Troy, OH
Buy Today, Pay Over Time with HVAC Financing
Are you looking to upgrade your home's heating or cooling system or need help covering the cost of repairs? Check out our current financing offer! We have partnered with Wells Fargo Bank to help our customers keep their home comfortable year-round.