Quality Thermostat Installation & Replacement Services in Troy, OH
Today's Wi-Fi and smart thermostats are state-of-the-art, affordable and they come with a wide range of options and user-friendly features to help a homeowner save money and optimize comfort. Overall, this makes them great investments that pay for themselves quickly. In addition to saving money on energy costs, the smart thermostats we offer can help you monitor your home's air quality and automate system optimization.
At Troy Furnace & Air Conditioning, our thermostats are smart home-friendly, extremely tech-savvy, and easy to maintain, and they lower your energy costs and help you monitor and control your home's ventilation, air purity, and relative humidity. If any of this sounds appealing to you, learn more about a few of the thermostats we carry below!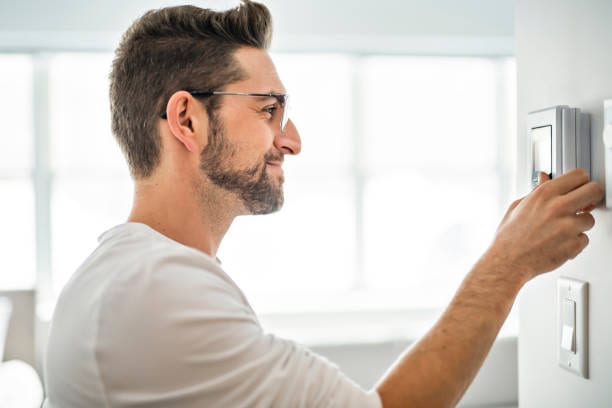 Adjustable Temperatures at Your Fingertips with a Programmable Thermostat
Help keep your energy bills down by getting a programmable, Wi-Fi-enabled thermostat for your home. Programmable thermostats allow you to schedule everyday heating needs and have a vacation schedule as well, helping keep your home the perfect temperature for your busy life! Book a Wi-Fi Thermostat + Installation today!

*Select models available, restrictions may apply. Call for details. $299 WiFi Thermostat + Installation
Save $100 | Regularly $399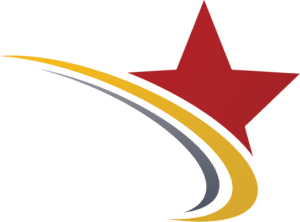 Troy Furnace & Air Conditioning Presents:
A Homeowner's Guide to Thermostats
Installing a new programmable thermostat is one of the simplest ways to improve your comfort and cut your energy costs by as much as 33%. We at Troy Furnace & Air Conditioning carry a variety of thermostats for Miami Valley homeowners to choose from: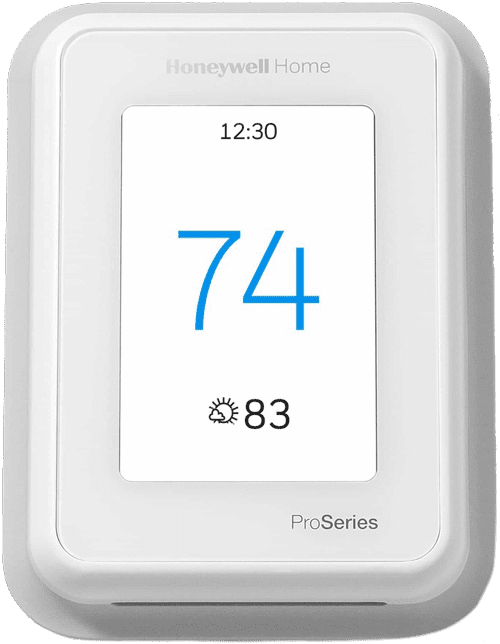 The Honeywell T10 Pro Smart Thermostat works with Smart Room Sensors to help you adjust the temperature and humidity from anywhere and stay cozy in the rooms that matter. This makes for a great addition to your current HVAC system. Place sensors where you want to see each room's temperature and humidity.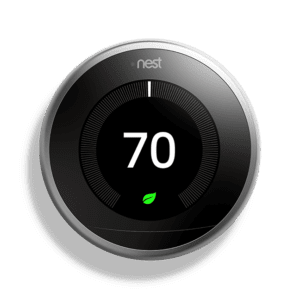 Meet the Google Nest Thermostat. It can turn itself down to save energy when you leave the house. You can control it from anywhere with the Google Home app – whether you're running an errand or on vacation. You can even change the temperature without getting off the couch. Just say, "Hey Google, turn up the heat." The Nest Thermostat looks out for your HVAC system with HVAC Monitoring.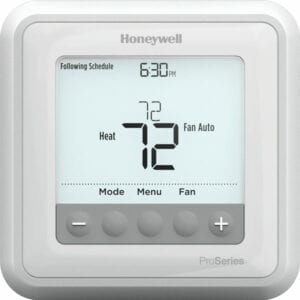 Connected, simple and smart, the Honeywell T6 Smart Thermostat is ENERGY STAR® certified and adapts to your lifestyle. It can learn your preferred comfort levels over time and heats or cools on schedule. If plans change, it's easy to adjust your home's temperature from any of your connected devices.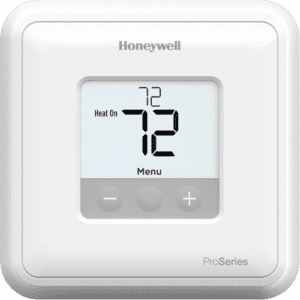 The Honeywell T1 Pro Non-Programmable Thermostat is one of the best choices in terms of temperature control on the market. Features include simple installation, push-button control, sleek aesthetic, easy to read display, 24 Vac systems; gas, oil, electric warm air; hot water coil; gas, oil, electric hydronic; or steam / gravity systems, up to 1 heat or 1 cool conventional systems, 5 to 90% RH, non-condensing operating humidity range (% RH), battery or hardwired power method.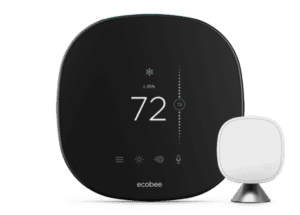 Experience enhanced comfort, increased savings, and advanced control with SmartThermostat with voice control and included SmartSensor. SmartSensor keeps you comfortable where you are, not just where your thermostat is. Place SmartSensor in the bedroom, office, or child's room for total comfort and control. SmartThermostat with voice control comes with Alexa Built-in and a re-engineered speaker for rich sound.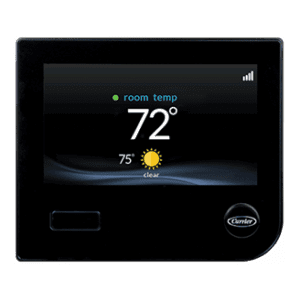 The Infinity system is our most advanced heating and cooling system, and it will redefine what comfort is for you. Connected, intelligent, and efficient, the industry-leading Infinity System gives you maximum control and unsurpassed comfort by helping minimize temperature swings and hot and cold spots within your home while saving you money on energy costs. It's the ultimate expression of our expertise and innovation—designed to give you the ideal indoor environment with the least amount of effort.

Benefits of Wi-Fi Thermostats
Take Control of Your Indoor Temperatures with a Wi-Fi Thermostat
Did you know that heating and cooling account for around half of the average home's energy costs? A smart thermostat allows for greater control and automation over a home's climate and temperature — control that could save a homeowner a bundle on energy costs during the summer and winter.
Set "Vacation Mode"
If you're heading away for an extended period of time, smart thermostats make it easy to set the temperature while you're away without messing up your existing settings.
Adjust the Temperature Remotely
Whether you're coming home early from work, still in bed and wanting it a bit warmer, or heading home from the airport — if you've got your mobile device handy, you've got control of your thermostat!
Ease of Use
Thanks to their modern designs, user-friendly screens, and highly-rated companion apps, the top-rated smart thermostats are all simple to use. If you've had a struggle with programmable thermostats in the past, you'll love this new generation of well-designed thermostats.
Conserve Energy
Depending on your current habits and preferences, letting the smart thermostat manage your home's climate automatically saves you money. The Nest Learning Thermostat encourages energy-saving options by awarding "Leaf" badges and offering easy tips in the monthly energy reports for even bigger energy savings.
What is Indoor Air Quality?
When you own a home, comfort shouldn't be your only consideration for HVAC equipment. When it comes to Heating, Ventilation, and Air Conditioning, Indoor Air Quality is a critical issue that is often neglected.
This is often the case because most homeowners feel that air pollution is strictly an outdoor problem. Nevertheless, studies indicate this is false. It turns out the air inside many workplaces and homes is far more polluted and toxic than the air outside. Because the average American spends more than 21 hours a day indoors on average, air quality deserves serious consideration and attention. Because the air indoors often lacks proper filtration, indoor air quality is something homeowners should take seriously.
The EPA defines Indoor Air Quality as the quality of air inside a building or home and how it relates to the building or home's occupants. Indoor Air Quality has a direct and sometimes negative effect on our health in addition to our overall mood, well-being, and energy levels.
Why is Indoor Air Quality Important?
Health officials say the air we breathe in our homes can be 2 to 5 times more toxic and polluted than the air outdoors, where nature has a way of taking care of it through a host of processes unbeknownst to the average person. When you take into consideration how tightly insulated most homes and workplaces are intentionally made in order to keep treated air inside, it becomes obvious why HVAC experts and health officials suggest some homeowners consider certain indoor air quality products to go in conjunction with their heat pump, furnace or air conditioner.
All too often household air pollution is unable to escape because modern dwellings are fairly airtight. In the confined spaces of a house or office building or work environment, pollutants can get trapped without adequate filtration or the circulation of outdoor air. Even with the HVAC system's air filter, often these pollutants are merely recirculated. Sometimes, getting a humidifier, dehumidifier or air purifier makes a world of difference, in addition to UV Lights and other air filtration products.
Financing Options in Troy, OH
Buy Today, Pay Over Time with HVAC Financing
Are you looking to upgrade your home's heating or cooling system or need help covering the cost of repairs? Check out our current financing offer! We have partnered with Wells Fargo Bank to help our customers keep their home comfortable year-round.