Quality Air Conditioner Repair Services in Troy, OH
When the weather is hot and humid outside, residential air conditioning systems are like lifelines — offering homeowners a crisp cool place inside and out of the heat. One thing that's sure to make a homeowner appreciate their central air conditioner is a non-functioning A/C or air conditioning breakdown.
So whether your home's A/C is making funny noises in the Greater Miami County Area, or your system is blowing warm air or short cycling, we can help. Call Troy Furnace & Air Conditioning today! Our home cooling heroes are standing by, ready to handle all your residential cooling needs, whether it be an air conditioner repair, A/C installation or seasonal maintenance. Schedule repair services online today!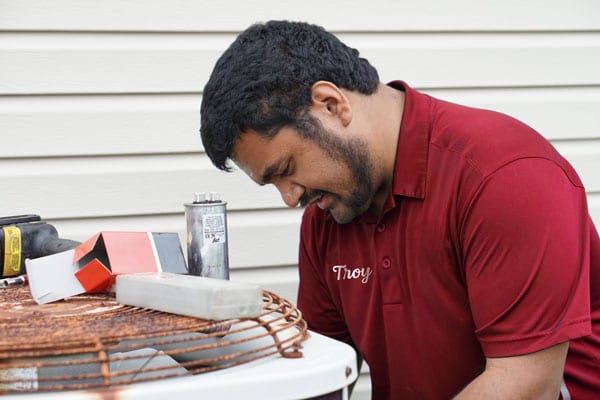 10% off Service Call
Book Now
Featured Deal
A/C Repair at Your Fingertips with a Service Call
Cool relief is always a fast and easy phone call away when choosing the team that cares about your comfort and air. Our home comfort consultants are available around the clock, 365 days a year, to help you should you ever need an emergency A/C repair. We work on all types of air conditioning systems and HVAC equipment. So whether your A/C is making funny noises, blowing warm air, or short cycling, we can help! We can run an obligation-free, low-cost Service Call and, if you'd like, repair your A/C in the same visit.
Common A/C Problems
Do You Need Air Conditioner Repair in Troy, OH?
If you're having problems with your air conditioning system, it may be experiencing one of the common residential cooling repair issues below:
Drainage Issues
An air conditioner's cooling process causes condensation, which usually flows away from the equipment. However, if a clog in the drip pan or condensate drain lines or outdoor humidity levels are high, moisture may back into your air conditioning equipment. Excess condensation will increase indoor humidity levels and affect the air conditioner's performance negatively. It can also cause damage to your unit's various components. To repair this, we closely inspect the underlying drip pan and all condensate lines. These lines will be cleared of clogs and may be treated for algae growth to prevent future clogs. If the AC's components have been damaged, we show you and offer you an estimate to repair the damaged equipment.
Refrigerant Leak
Air conditioners use refrigerant, which enables the system to run efficiently, releasing heat from the air to cool it. They are charged with refrigerant upon installation. Nevertheless, a poor charge or a refrigerant leak can cause the system's refrigerant level to drop below the proper amount needed.
It is important that the technician performing your home AC repair charges your AC with the proper amount of refrigerant. The manufacturer will specify this amount — correct refrigerant charge allows your cooling system to perform accurately and efficiently.
Frozen Condenser Coils
If your condenser coils are frozen, your air conditioner won't run properly. Poor airflow through your cooling system can cause ice to form on the AC coils. Usually, blockages are the culprit here — like dirty air filters or blocked return air ducts. Low refrigerant could also be the reason for frozen coils, which means you'll need a professional to recharge your refrigerant levels. In any case, our AC repair technicians can diagnose the problem causing frozen coils, resolve it, and safely thaw your coils to restore cooling in your home.
Broken Compressor Fan

Your home cooling system's outside unit houses your fan, compressor, and condenser coils. These essential parts work to release heat from the air, transferring it out of your home to produce a cool indoor climate inside. If the outdoor fan isn't working properly, the heat transfer process is inhibited. This prevents your AC from adequately cooling your residence, while a broken fan can cause the unit's compressor to overheat. An overheated compressor could trip the air conditioner's safety features, causing your air conditioner to shut down. Additionally, overheating can also damage the compressor itself, which is an expensive part requiring an A/C repair or compressor replacement.
If you call us, we can diagnose the issue preventing the outdoor fan from working as it should. Your fan will be replaced or repaired depending on your need, and the outdoor unit will be inspected to assess whether the issue has caused further system damage.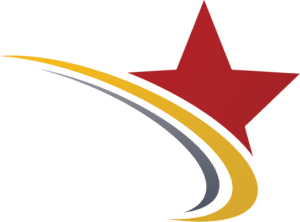 Troy Furnace & Air Conditioning Presents:
Troubleshooting Your Air Conditioner
My Air Conditioner is On But Isn't Cooling
Check the thermostat to make sure it's working properly.
Take a look at the condenser to see if it's dirty or blocked. If so, clean it and remove the blockage. The condenser can become blocked by tall weeds, grass, or other airborne debris.
Clean and/or change your filter (We recommend once a quarter.)
See if any ice has formed on the coils. If so, turn the fan on to melt it.
Check and/or clean the outdoor compressor. You could have a faulty compressor or an inadequate amount of refrigerant in the system, which would require a professional to fix.
A/C Won't Turn On

Make sure it's getting power from the electrical panel.
Reset the circuit breaker or replace the fuse.
Check your thermostat settings to make sure it's set on "cool" and not set to "off" or "heat."
Check for excessive water in your condensate overflow tray. There may be a sensor on your tray that turns the unit off when water pools up.
Check that all switches in and around the air conditioner are set to the "on" position, including the external safety switch that's typically located near the condensing unit.
Check to make sure the blower door on the air handler is securely closed.
Airflow Is Weak
Make sure your A/C air filter is clean. If it's dirty, clean or replaces it.
Check all your ductwork to make sure it's not disconnected, including ductwork that may be difficult to reach, like in your attic, basement, and crawl spaces. Repair or connect as needed. If professional help is needed, call us.
Check register dampers on vents in the rooms to make sure they are set to an open position.
Financing Options in Troy, OH
Buy Today, Pay Over Time with HVAC Financing
Are you looking to upgrade your home's heating or cooling system or need help covering the cost of repairs? Check out our current financing offer! We have partnered with Wells Fargo Bank to help our customers keep their home comfortable year-round.