Quality Heat Pump Repair, Maintenance & Installation Services in Troy, OH
Heat pumps are an excellent system you can use for home comfort year-round: low maintenance, light on energy consumption, and good for the environment. Provided maintenance is performed regularly, homeowners who own heat pumps enjoy these quiet-running systems without any issues for years to come.
Whether your home is already equipped with a heat pump and you need a reputable heat pump repair technician that's fast and affordably priced, or you're looking to have a heat pump installed, Troy Furnace & Air Conditioning is the team to call! We are a family-owned and operated business. We have a whole team of friendly, NATE-certified HVAC technicians who care about customer service and customer service and take your comfort to heart.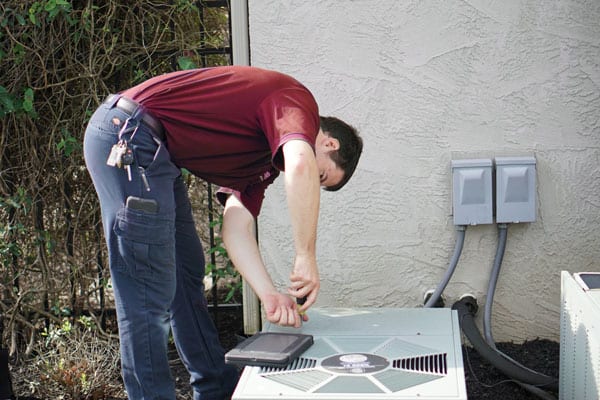 Diagnostic Service Call
We Service All Brands of HVAC Equipment
Are you having problems with your furnace, air conditioner, or heat pump? Troy Furnace & Air Conditioning can help you get to the bottom of it. Check out our special Diagnostic Service Call! If you're ready to take advantage of this special offer, claim this deal today to request your appointment. We service all brands, makes, and models of HVAC equipment across Northern Dayton! 10% off Service Call
Book Now
Heat Pump Services in Troy, OH
A Homeowner's Guide to Heat Pumps
A heat pump is part of a heating and cooling system installed outside your home.  Like an air conditioner, it can cool your home, but it's also capable of providing heat. Here are some frequently asked questions about heat pumps to help homeowners decide if it will work for their needs:
What Types of Heat Pumps Are There?

The two most common types of heat pumps are air-source and ground-source. Air-source heat pumps transfer heat between indoor air and outdoor air and is more popular for residential heating and cooling. Ground-source heat pumps sometimes called geothermal heat pumps, transfer heat between the air inside your home and the ground outside. These are more expensive to install but are typically more efficient and have a lower operating cost due to the ground temperature's consistency throughout the year.
How Does a Heat Pump Heat and Cool a Home?
Heat pumps don't create heat. They redistribute heat from the air or ground and use a refrigerant circulating between the indoor fan coil (air handler) unit and the outdoor compressor to transfer the heat. In cooling mode, a heat pump absorbs heat inside your home and releases it outdoors. The heat pump absorbs heat from the ground or outside air (even cold air) and releases it indoors in heating mode.
Where Do Heat Pumps Work Best?
Heat pumps are more common in milder climates, where the temperature does not typically drop below freezing. In colder regions, heat pumps can also be combined with furnaces for energy-efficient heating on all but the coldest days. When the temperature outside drops too low for the heat pump to operate effectively, the system will instead use the furnace to generate heat. This kind of system is often called a dual fuel system – it is very energy-efficient and cost-effective.
What is Refrigerant?
All air conditioners have refrigerant within copper coils. As refrigerants absorb heat from indoor air, it transitions from a low-pressure gas to a high-pressure liquid. Air conditioning components send the refrigerant outside where a fan blows hot air over the coils and exhausts it to the exterior. The refrigerant then cools down and turns back into a low-pressure gas. Another fan located inside the home blows air over the cool coils to spread and circulate the resulting cooled air throughout the building. After that, the cycle repeats.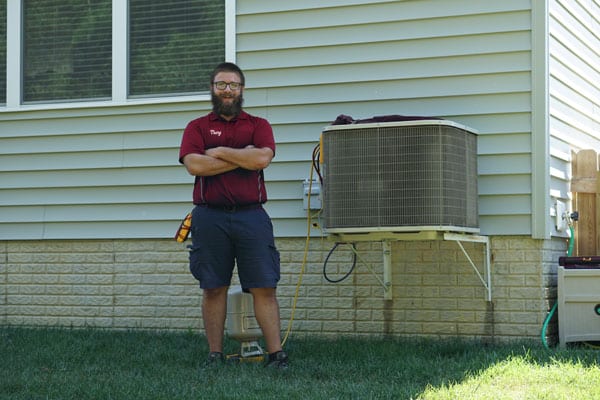 Heat Pump System Installation & Replacement
We're the Heat Pump Installation Experts in Miami County, OH
Would you like a single HVAC system that can provide year-round comfort at a low cost? Heat pumps are an excellent energy-efficient, effective year-round heating and cooling unit that's environmentally-friendly and increasing in popularity. We at Troy Furnace & Air Conditioning are excited to offer our heat pump replacement and installation services to residents here in the Greater Miami County area.
We've built relationships with the top manufacturers in the business, such as Trane, Lennox, Carrier, Rheem, and many more. We also offer our parent company's private label. If you're looking for budget-friendly heat pump system installation in Troy, OH, call us at (937) 230-5221.
Financing Options in Troy, OH
Buy Today, Pay Over Time with HVAC Financing
Are you looking to upgrade your home's heating or cooling system or need help covering the cost of repairs? Check out our current financing offer! We have partnered with Wells Fargo Bank to help our customers keep their home comfortable year-round.