Emergency Heating & Cooling Repair Services in Troy, OH
Whether your air conditioning unit is down during the summer or it's cold outside, and you've lost heat — no one will take your emergency heating or cooling repair call more seriously than Troy Furnace & Air Conditioning.
A trusted name in the Miami Valley area, we are a family-owned HVAC company that cares about our customers like family. When you call us for an emergency furnace repair,  A/C repair, or any HVAC problem in your Miami Valley, Ohio area home — we aren't comfortable until you're back in comfort with peace of mind.
We are always standing by, day and night, always ready to come out and get your comfort-making equipment back online. We service Northern Dayton; check out our list of service area locations. That's comfort on call — 24 hours a day, 365 days a year! When you call our 24-hour customer support line, our friendly home heating and cooling team will politely guide you through your issues.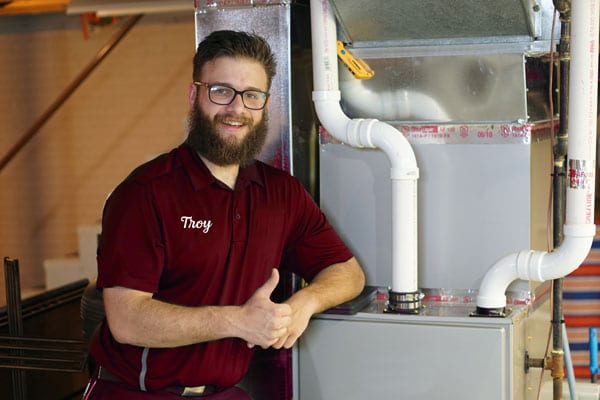 Emergency Services in Troy, OH
What's Considered an HVAC Emergency?
It's not unusual for a homeowner to question whether their specific heating or cooling system problem merits the need for an expert or emergency services. If you're having a furnace or air conditioning problem, the following are a few guidelines to help you evaluate your situation:
Lack of Heat
With Ohio weather becoming as cold as it becomes during the winter, a homeowner needs to have access to adequate heating if they're going to survive the frigid months. If your home heating system, heat pump or furnace isn't producing heat, and the interior temperature is quickly descending, it always merits a call for a professional — for emergency heating system services.
Safety Concerns
If you suspect any safety issues, don't hesitate to call us right away. This includes strange smells, smoke, leaking gas, leaking refrigerant, sparks, or strange loud noises. These are things no homeowner should take chances with.
If you suspect a gas leak, call your local fire department or gas company immediately.
A/C Failure
Here in the Buckeye State, homeowners count on their home cooling equipment for good reasons. Essentially, our air conditioners get us through Ohio's hot and humid summer months to provide a sort of sanctuary from the heat. If an A/C unit stops cooling, interior temperatures can become uncomfortable in no time. This is considered an HVAC emergency, particularly if there are young children, elderly family members, or pets in the home.
Schedule Now
When It's Not Necessarily an Emergency…
While it seems nearly any problem with a heating or cooling system can be a hassle, not all problems necessitate a late-night or holiday call for a technician. These minor issues include:
Full system replacement or installations
Power outages or lack of fuel or gas
Routine seasonal maintenance
Air filter cleaning or replacement
Minor repairs when the outdoor temperatures are mild 10% off Service Call
Book Now
Service Call
We Service All Brands of HVAC Equipment
Are you having problems with your furnace, air conditioner, or heat pump? Troy Furnace & Air Conditioning can help you get to the bottom of it. Check out our special Service Call! If you're ready to take advantage of this special offer, claim this deal today to request your appointment. We service all brands, makes, and models of HVAC equipment across Northern Dayton!
Financing Options in Troy, OH
Buy Today, Pay Over Time with HVAC Financing
Are you looking to upgrade your home's heating or cooling system or need help covering the cost of repairs? Check out our current financing offer! We have partnered with Wells Fargo Bank to help our customers keep their home comfortable year-round.