Service Area Locations
Expert Heating, Cooling & Indoor Air Quality Services in New Carlisle, OH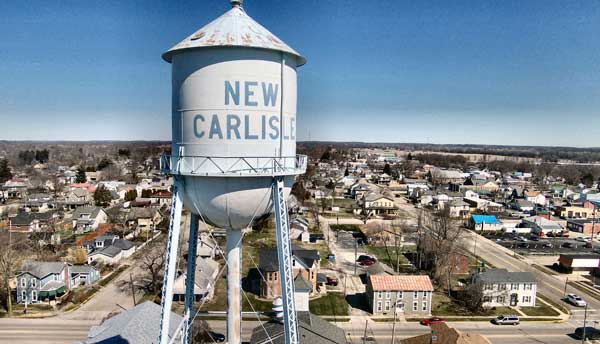 Troy Furnace & air Conditioing
Getting to Know New Carlisle, OH
New Carlisle is a Clark County village located north of Dayton. The town has a population of around 5,600 people. New Carlisle was originally laid out in 1810 and called Monroe. Its current is a transfer from Carlisle, Pennsylvania, the birthplace of many of the early settlers. It was incorporated in 1831. New Carlisle became a city in 1973.
On June 21, 1933, the infamous John Dillinger committed his first bank robbery, taking $10,000 from the New Carlisle National Bank. The bank was the first of 24 that the famous 30s mobster robbed. The bank still stands at the southeast corner of Main Street and Jefferson Street (state routes 235 and 571) in New Carlisle.
New Carlisle has a wide range of recreational facilities available, including six baseball diamonds, an amphitheater, three basketball courts, a skatepark, five playgrounds, an outdoor heated swimming pool, three tennis courts, and four open picnic shelters. Our log cabin, constructed in 2005, is approximately 1600 square feet and is available to rent for gatherings. It is air-conditioned, heated, and has ADA-compliant restrooms. Additionally, in 2012 the city completed construction of a 3.6-mile multi-use trail that starts at the south end of town and ends on West Lake Avenue.
Schedule Now
New Carlisle, OH Homeowners Can Count On Us!
No matter what sort of HVAC problem arises, we are always standing by, ready to come out and get your comfort-making equipment back online. Comfort is our calling, and we aren't comfortable until you're in total comfort. Family-owned and operated, and satisfaction is guaranteed!
Throughout Ohio's frigid winter months, we offer emergency furnace repair and heating and air system installation and replacement for residents looking to stay warm and safe. Regardless of what your particular home heating system needs may be, we furnace and heat pump services at affordable prices with simple and user-friendly financing available. We offer dependable air conditioner services for the summer, such as A/C repair, air conditioner maintenance, and AC installation! We also service heat pumps for cooling.
Furthermore, we are also more than happy to offer residents in New Carlisle, OH our year-round AC maintenance and furnace maintenance programs if you're looking to get the most from your air conditioning system, furnace heater — or any other HVAC system for that matter with seasonal maintenance, which should be done every year to keep your systems' factory warranties active. Learn more about our maintenance program.
Our NATE-certified heating and cooling technicians can clean your air duct system and repair leaking or loose ductwork; we install new duct systems and extend existing duct systems into new additions to the home, expansions and renovations, as well as HVAC changes and upgrades. We offer thermostat, humidifier, and other Indoor Air Quality upgrades at installation, just ask your technician!
So if you're asking questions like "why is my air conditioner blowing warm air?" or "why is my heating system not turning on?" or "why isn't my A/C working properly?", or "who's the best HVAC company near me?" we would be more than happy to come to your home promptly and get you back to breathing easily in superior comfort with peace of mind.