Service Area Locations
Expert Heating, Cooling & Indoor Air Quality Services
in Springfield, OH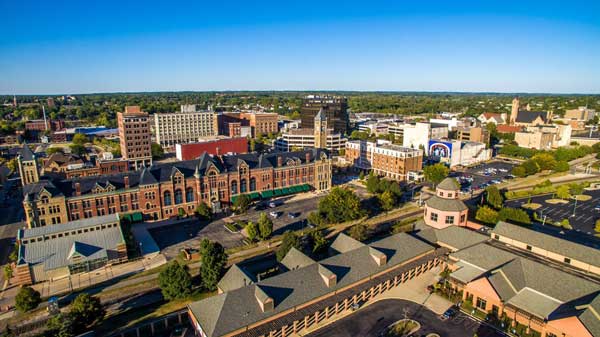 Troy Furnace & air Conditioing
Getting to Know Springfield, OH
Known by many as the "Champion City" for being the home of Champion Farm Equipment, Springfield has a population of around 60,000 people. Located 25 miles north of Dayton, Ohio, it is the county seat of Clark County, in southwest Ohio. Springfield is located along the Mad River and the Beaver and Buck creeks; it's also the home of liberal arts college Wittenberg University.
Springfield is a frequent destination for hikers and cyclists; the Little Miami Scenic Trail runs from the Buck Creek Scenic Trail into Springfield and goes south to Newtown, Ohio, which is near Cincinnati. The trail is a paved rail-trail that is nearly 80 miles long. In its 50th-anniversary magazine edition, Newsweek featured Springfield in 1983 in a story called, "The American Dream," which documented the effects of the previous 50 years of change on five families from Springfield. Then, in 2004, Springfield was selected as an "All-America City."
In recent years, the Piqua Sept of the Ohio Shawnee Tribe established a traditional sacred cedar pole in memory of the Peckuwe village location and their tribe; this is now registered as a state historical marker.
Founded in 1801 by James Demint, Springfield was named after the historic city of Springfield in Massachusetts. In 1818, when Clark County was formed from parts of Madison, Champaign, and Greene counties, Springfield was selected by the state legislature over the village of New Boston as the county seat; it earned designation as such by a mere two votes. A loss in manufacturing jobs and other blue-collar businesses in the United States in the late 20th and early 21st centuries is said to have caused significant population decline in Springfield.
Schedule Now
Springfield, OH Homeowners Can Count On Us!
No matter what sort of HVAC problem arises, we are always standing by, ready to come out and get your comfort-making equipment back online. Comfort is our calling, and we aren't comfortable until you're in total comfort. Family-owned and operated, and satisfaction is guaranteed!
Throughout Ohio's frigid winter months, we offer emergency furnace repair and heating and air system installation and replacement for residents looking to stay warm and safe. Regardless of what your particular home heating system needs may be, we furnace and heat pump services at affordable prices with simple and user-friendly financing available. We offer dependable air conditioner services for the summer, such as A/C repair, air conditioner maintenance, and AC installation! We also service heat pumps for cooling.
Furthermore, we are also more than happy to offer residents in Springfield, OH our year-round AC maintenance and furnace maintenance programs if you're looking to get the most from your air conditioning system, furnace heater — or any other HVAC system for that matter with seasonal maintenance, which should be done every year to keep your systems' factory warranties active. Learn more about our maintenance program.
Our NATE-certified heating and cooling technicians can clean your air duct system and repair leaking or loose ductwork; we install new duct systems and extend existing duct systems into new additions to the home, expansions and renovations, as well as HVAC changes and upgrades. We offer thermostat, humidifier, and other Indoor Air Quality upgrades at installation, just ask your technician!
So if you're asking questions like "why is my A/C blowing warm air?" or "why is my furnace not turning on?" or "why isn't my A/C working properly?", or "what's the best HVAC company near me?" we would be more than happy to come to your home promptly and get you back to breathing easily in superior comfort with peace of mind.